NEWS
Janice Dickinson Wants to Talk!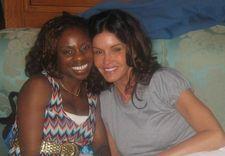 The Janice Dickinson Modeling Agency will return to TV late this summer, and Janice is taking on her biggest project yet: shacking up in a house with her employees!
I'm more than obsessed with this show, so I jumped at the chance to jump on the couch with the diva herself.
Sitting in the lobby of the Ritz Carlton at Central Park, Janice fended off an amorous fan who was taping our interview with his cell phone by saying she would film him right back!
Article continues below advertisement
The self-proclaimed first supermodel had more than enough to say, naturally, about her new model digs, her new talk show and her love life. And I ate up every minute!
Your personality is bigger than life. Is it just for the cameras?
Absolutely no! I know how to be. For years I got paid for my beauty, now I get paid for my wit. I'm working on my fourth book as well, 50 and Fabulous.
What's the key to being 50 and fabulous?
It's all about humor. I'm 54, and I have it all covered, with two children and everything that I've been through that others haven't: alcohol and drug dependency, incest, you name it. I'm the real deal.
You're moving into a house with the models this season.
I need to keep an eye on the kids. My show is not a reality show or a contest. It's a docudrama of our industry. I'm going to let you come!
Are there plans to open a plus-size division?
Article continues below advertisement
I would say no, but I will give it a try. My son will end up running it. I was in the gym for two hours this morning before I saw you. I'm in the gym every day of my life.
Girls didn't look like you when you started modeling.
They were all fair and blonde, and I broke the mold. I held my ground and the more they started looking like me. Thus you had Gia, who Angelina Jolie played, and Cindy Crawford came along. Then the ethnic girls started to push in. So I feel proud of the fact that I was the world's first supermodel in breaking the mold of ethnic-looking models.
You're also launching a TV talk show?
I'm in talks with two networks to host my own show. I'm going to help other women to just be.
How's your love life?
I've been in a relationship for a year with, let's call him Joe, and it's monogamous. He's from San Antonio, he's phenomenal, and I don't cheat. He likes my kids. He's an architectural lighting wizard, and he's just groovy. He plays guitar and I love him to death. He's got nothing to do with this business.
Article continues below advertisement
What would we be surprised to learn about you?
I'm an AIDS activist and I love animals. We raised another $47,000 for AIDS when I did the U.K. series I'm a Celebrity... Get Me Out of Here, for the Elton John AIDS Foundation. When I'm not doing the show, I raise money for AIDS, that's what I do.
What's your favorite body part?
It's my mind. I love what goes on inside. Everyone thinks I'm crazy, but I'm not. I love to exercise the brain muscle. I really love journalism, writing, literature and all that stuff. That's what I love. So do you. That's why you're a journalist, and a beautiful one at that. But that kind of body part? My ass!
Look for The Janice Dickinson Modeling Agency to return to Oxygen this summer.