NEWS
Jared Leto on 'Hurricane' Video Controversy: "We Didn't Expect This Kind of Pushback"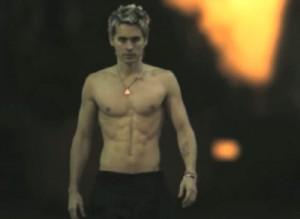 Jared Leto worked hard directing, starring and getting in shape for the latest video from 30 Second to Mars, "Hurricane." The 13-minute mini-movie, however, is not receiving the warm reception Jared had hoped for, as the frontman finds himself defending the graphic video he created.
****Warning — NSFW!
The clip debuted yesterday on MTV.com, and controversy ensued almost immediately.
Jared spoke out against the censorship of the video — which displays S&M imagery and shocking controversial images laced throughout the entirety of the 13-minute cut.
Article continues below advertisement
He turned to his blog, JaredLeto.com and posted a letter from a unidenitfied TV exec, who banned the video from network television due to its graphic nature.
Under the title "BANNED FROM TELEVISION," the letter reads:
"Overall the bondage theme will warrant a POST 10 p.m. restriction as the film is in its current form. There is one shot that will have to be removed completely for a POST 10 p.m. restriction. 09:17 — WOMAN RUNS FINGER OVER OTHER WOMAN'S G-STRING-CLAD BOTTOM AND TOUCHES HER ANUS — This shot makes the video completely restricted. There are other bondage shots towards the end of the film that Compliance were unclear about, they would have to view frame by frame on tape to gauge whether they would need to be cut too for POST 10PM. The violence in the film is not graphic and would warrant a POST 7 p.m. restriction. But the overall sexual content does push the restriction up."
OK! NEWS: WATCH THIS FAN TRANSFORM INTO JARED LETO
The letter continued to document the inappropriate nature of the video scene-by-scene — Jared's character jumping out of a skyscraper window, a priest, rabbi, and imam burning holy books and the dripping of hot wax over a woman's body, are just some of the 40 scenes listed in the letter.
The unnamed TV exec deemed many of the scenes in video appropriate only after 10 p.m.
Article continues below advertisement
"We always knew there would be some images that would have a tough time getting through," Jared told Entertainment Weekly of the backlash. "But we didn't expect this kind of pushback that we're getting now."
"I had always planned on having an explicit version and then a version that was not so explicit," he added. "The version that we were trying to get on broadcast is not the explicit version, and that's still having a really difficult time."
OK! GALLERY: JARED LETO SHARES HIS FLARE FOR SOPHISTICATION
Jared, however, doesn't understand the outcry caused by the use of sexual images.
"I'm not interested in provocation for provocation's sake," the singer explained. "I just think it's interesting that when you turn on the news or whatever else catches your interest, how much violence and negativity is available out there. As soon as it comes time for sexuality, it's a big shock that people are sexual beings. It's an interesting double standard to me."
Catch the video below. Do you find it to shocking? Share your thoughts in the comments section!