NEWS
Jason Biggs Talks About His Full-Frontal in 'American Reunion': "It Was Time to Feature It!"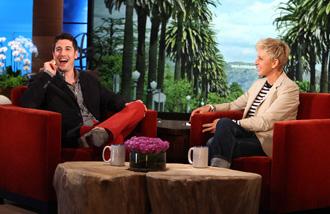 Article continues below advertisement
"It's the kind of thing where I believe 'my area' has been very active in the movies," he explains. "It's been talked about, it's been put in things…weird things. It's been very featured without being 'featured.' So I figured, it was time to feature it!"
And Jason is very proud of his choice to let it all hang out, until he realized that at the movie's premiere, he'd be sitting in between his wife, Jenny Mollen, and his mom. Yup, his mom.
"Yeeeaaah... I sat next to my mom at the premiere which was weird," Jason admits, giggling. "She knew it was happening, but I warned her, I said, 'Listen mom, afterwards, especially during, don't even look at me. I don't want a comment. I don't want anything!"
"Because I can just picture my mom, not on purpose, but just being like 'Good job! That's my boy!' So it was just all kind of uncomfortable for me," Jason confesses.
Article continues below advertisement
OK! NEWS: SEANN WILLIAM SCOTT ON AMERICAN REUNION: "YOU'RE GOING TO BE BLOWN AWAY!"
But, despite all the mommy drama, Jason loved being back with the cast and is really glad he got to see everyone again.
"It was really great. It was a reunion for us," he says. "The great thing about this cast is we can go years without seeing each other and then we get back and as a group we just have a great thing and it's a lot of fun."
American Reunion hits theaters today!