NEWS
Jason Segel Reveals He Wrote 'Five-Year Engagement' For Emily Blunt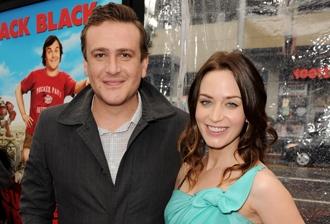 Jason Segel appeared on the Today show this morning and discussed why being naked is funny and whom he had in mind when writing The Five-Year Engagement.
Jason co-wrote the movie with writing pal Nicholas Stoller and was sure not to cast just any pretty face in Hollywood.
OK! GALLERY: JASON SEGEL GIVES HIS BEST MUPPET FACE WITH KERMIT THE FROG
"It's a movie about the exploration of a relationship over five years. Emily Blunt and I have been friends for about five years and that's why I wrote it for her," he said. "I hate romantic comedies where it seems like two viable actors have been clumped together because they had successful movies the year before, and they clearly don't know each other."
Article continues below advertisement
The best part of being a writer? Brainstorming love scenes with his leading lady.
"I love that... and she shows up and just has to do it," he said to Today co-anchors Al Roker, Matt Lauer, Ann Curry and Natalie Morales.
OK! NEWS: EMILY BLUNT ON JASON SEGEL'S FULL FRONTAL IN FIVE-YEAR ENGAGEMENT: "I DIDN'T WANT TO SEE IT!"
When the topic of Jason's habitual onscreen nudity was broached, he quipped: "I'll tell you what's a shame... apparently me being naked is funny," he said. "Onscreen, in my personal life... if I take my clothes off, it's met with hysterical laughter."