NEWS
Emily Blunt on Jason Segel's Full Frontal in 'Five-Year Engagement': "I Didn't Want to See It!"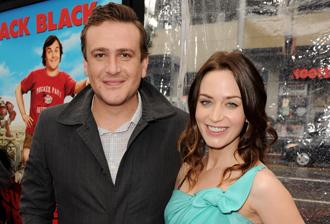 Article continues below advertisement
"He's such a buffoon," she said of Jason. "He's my friend and he wrote it for us, and it was great because he knows my voice so he wrote it with me in mind, which is really fun."
But the full-frontal scene was clearly written more for his fans than Emily.
Jason previously explained in a interview with Vanity Fair why his friendship with Emily makes their new film even better.
"Emily and I are actual friends," he explained. "And I'm really good friends with her husband John, as well. And so it almost means more in the mundane scenes where we're just talking. You can tell that we're friends. And so it feels different than two randomers matched up."