NEWS
Jason Sudeikis Slams Schwarzenegger & Selena Gomez/Justin Bieber at MTV Movie Awards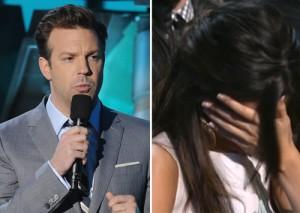 Jason Sudeikis used his hosting gig last night at the 2011 MTV Movie Awards as an opportunity to take some jabs at former governor of California Arnold Schawarzenegger and his current love scandal. And while the Arnold jokes were expected, the audience didn't seem to receive them very well.
"For the first time in the history of the MTV Movie Awards, the entire balcony has been fathered by Arnold Schwarzenegger," Jason told the audience to a muddled response.
Article continues below advertisement
Also met with skepticism from the crowd was the following Arnold quip: "So many talented young stars here tonight," he said, followed by the low-blow punchline, "I was surprised to find so many young kids here. Not as surprised as Maria Shriver."
Jason also preyed on 18-year-old starlet Selena Gomez, joking about her recent Maui PDA fest with boyfriend Justin Bieber.
OK! NEWS: JUSTIN BIEBER THANKS JASON SUDEIKIS FOR "MAKING MY WISH HAPPEN"
"Sweetie you've been lip-locked with that Bieber kid for a month straight. I want you to be careful, alright?" he said, driving Selena to bury her head in her hands. "The only reason I'm telling you that is because she already swallowed three of his baby teeth. Don't want you to choke."
Selena certainly looked horrified, as did the girl next to her.
Kristen Stewart was also on the chopping block.
Jason said MTV stood for "More Twilight Victories" and added that he understands the tough battle K-Stew endures choosing between two loves.
"My heart says Jacob, but my wiener says Edward," he quipped, adding, "My balls are indifferent."
Watch Jason's opening, via MTV, in the clip below! Do you think he was well-received by the audience? Were any of his jokes too hard-hitting? Sound-off in the comments.
Tags: