NEWS
Jay Baruchel on 'Goon', Seann William Scott & How His Fiancée "Classed Up" His Life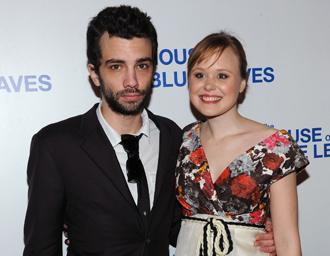 Jay Baruchel is branching out. The comedian best known for Knocked Up and She's Out of My League is now in Goon (out March 30), a violent hockey movie that he also wrote.
At the NYC premiere, Jay explained how exciting it was to be a part of the film from the ground up. "It was a dream come true, as cliché that sounds, " he said. "Pre-production was wonderful. I still have a picture on my cell phone of the door to my office with my name on it. I sent it to my mother. I was like, 'I have a f****** office! Can you believe that s***?' "
Article continues below advertisement
"To come up with all these characters, teams, this league in the film, this whole world and see it come to life and see incredible actors inhabit my voice... To see our incredible costume and art department create these gorgeous jerseys and stadiums — it's like the world's greatest video game."
OK! NEWS: SEANN WILLIAM SCOTT FROM 'AMERICAN REUNION' CONFIRMS ENGAGEMENT!
Could it get any better? Yes! Jay said to OK!, "It was just a combination of the three loves of my life: hockey, Canada and movies. To make a hockey movie in Canada, it can't get any better than that for me."
MORE ON:
Seann William Scott
Goon also stars his fiancée Alison Pill, along with Liev Schreiber and Seann William Scott. "When it was just Seann and I, it was Seann William Scott and Jay Baruchel in their Canadian hockey movie. I was psyched about it, but it's not really the sexiest headline," he said laughing. "Then we got Alison Pill and Liev Schreiber. They really classed up the joint. Alison has classed up the movie, like she's classed up my life and my house."