NEWS
Jen Aniston on Diane Sawyer: "She's the Object of People's Sexual Desire"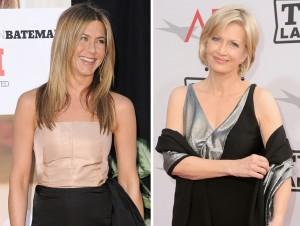 Diane Sawyer has a crucial role in the new film The Switch where her picture helps Jason Bateman make a sperm donation to Jennifer Aniston. And according to Jen, there couldn't have been a better woman chosen for that role!
OK! GALLERY: THE SWITCH CAST PULLS OUT ALL THE STOPS IN L.A.
When Jason's character has to scramble to replace the sperm Jen's character was counting on for her artificial insemination, Diane's New York Magazine cover helps him get the job done!
Article continues below advertisement
"She (Sawyer) is just awesome. First of all, she's the object of people's sexual desire," Jen told Fox 411, of the 64-year-old newswoman. "I think that's pretty awesome, don't you think? And she still is – how do you not idolize that woman?"
OK! VIDEO: JEN ANISTON CHATS ON THE SWITCH RED CARPET
Producers had to make a last minute call to Diane to ask for use of her picture in that particular scene and Jen was happy to make the call herself.
"I got to make the call," she said. "She is so awesome."
OK! VIDEO: JEN ANISTON OPENS UP ON MOTHERHOOD
While the film's concept has been under debate, Jen personally loved the script.
"I found the script so refreshing having gone through so much of this stuff with women in my life – with friends, whether it was dealing with frustrations with fertility, or adoption, to adopt or don't, or surrogate," Jen explained. "The good news is that there are so many options for women. It's sort of a taboo subject, but to see it woven into this awesome modern love story, I was like 'this is a story I haven't heard before.' "
OK! NEWS: JENNIFER ANISTON — STAYING FRIENDS WITH AN EX IS POSSIBLE
But now that she's done with the film, Jen is looking to take break.
"I'd like a pause button, personally. Just pause – just for a second," she said. "I'm ready to take a break; it is time soon to take a break. After the next (film)… after the next one, I will take a break."