NEWS
Jennifer Aniston: Staying Friends With an Ex Is Possible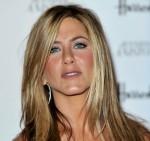 When Jennifer Aniston takes on a character for a movie, she doesn't just act the part and then get over it — she says she learns something from every role. Maybe that's how she's been able to keep up relationships with her exes, as she admitted she believes that staying friends after a split is definitely possible. Jen dished to reporters today at a press junket for The Switch.
"I've learned something from Kassie and every character I've played," she says of her role in her newest flick, The Switch, co-starring Jason Bateman. "Especially, in this case, the women in my life I've known who have gone through the struggles and heartbreak frustrations of fertility, adoption, and all of that.
Article continues below advertisement
"I think that's why this jumped out for me, so immediately," she added. "Because I thought it was so timely and progressive and hadnt been previously discussed. And to have a love story woven through it, was just sorta beautiful. And it's hysterical."
OK! GALLERY: 10 HOLLYWOOD COUPLES STILL GOING STRONG AFTER 10 YEARS
In the movie, Kassie's character is friends with a guy who switches out the sperm sample she uses to impregnate herself. Sounds like you could get mad at a guy like that — but Jen admits she thinks exes can stay pals.
When reporters asked if she thinks it's possible to can remain friends after a split, Jen replied, " Yes, it is."
IN THIS ISSUE OF OK!: JEN & BRAD — SECRET FRIENDS!
Perhaps one thing that makes it easier for Jen to pal around with men she used to be in relationship with is the fact that she also thinks you can be friends with someone of the opposite sex without being attracted to them physically.
"Yeah, I have been," Jen admits. "I think it's hard. I think women have an easier time of it than men do."
FOR MORE ON JEN'S RENEWED RELATIONSHIP WITH EX BRAD PITT, PICK UP THE NEW ISSUE OF OK! — ON SALE EVERYWHERE NOW!