NEWS
Jen Aniston on 'Just Go With It' Set: "I'm Constantly Getting a Kid Fix!"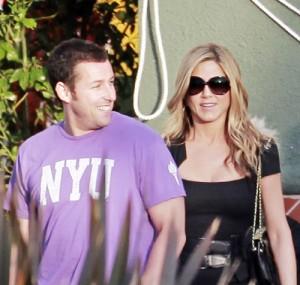 The Just Go With It cast including Adam Sandler, Jennifer Aniston, Nicole Kidman and Dave Matthews sat down with Entertainment Tonight in Hawaii and dished about their new film in an interview airing tonight. On set Jen has been surrounded by everyone's children and said, "I'm constantly getting a kid fix!"
OK! GALLERY: NICOLE KIDMAN SAYS 'ALOHA' TO JEN ANISTON & ADAM SANDLER
Adam revealed to Entertainment Tonight that he and Jen have known each other for over 20 years.
Article continues below advertisement
"We met at Jerry's Deli through a bunch of mutual friends," he explained. "We shared meals together. I watched Aniston eat!"
OK! COVER STORY: JEN'S BEST BODY AT 41: HOW SHE LOST 7 LBS IN 7 DAYS
Sadie, Adam's daughter is starting to warm up to Jen. "I call her 'Fifty Fifty Sadie.' When she's nice to Aniston, I'm in a good mood," Adam said. "When she's nuts I'm like, 'Sadie, come here for a minute. That's Aniston! It's fine.'"
OK! GALLERY: NICOLE & KEITH HOPE FOR A HOLE-IN-ONE IN HAWAII
But Nicole said the cast's children have become friends and attend school together on set.
"It's wonderful," Nicole said. "There is a little school all set up. Dave has a two and a half year old boy who Sunday likes."
"I'm constantly getting a kid fix!" Jen joked of being surrounded by so many children on set.
For right now, Jen's baby on set is her new fragrance project.
"We're calling it Lola Vie," as for the name she says, "It means something, but it's a long story."
For more of the Just Go With It cast's interview, tune in to Entertainment Tonight on May 3. The romantic comedy hits theaters on Valentine's Day 2011.