NEWS
Jen Garner Explains Her Ouchies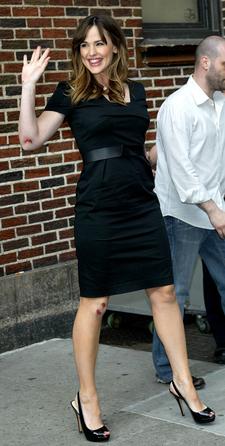 After she showed up on Late Show with David Letterman sporting a couple cuts, scrapes and bruises on her arms and legs, Jennifer Garner was able to laugh off her injuries, telling Dave, "I just biffed. I took a header."
Oh, so she was probably doing some kind of dangerous stunt for a new film? Nope.
"I wasn't even making an action movie or anything. If you do it when you're making an action movie, you feel cool. When you do it when you're just running on a beautiful day in front of a lot of people, you don't feel so cool," she laughs.
Article continues below advertisement
It's bad enough if no one knows you, but try being recognizable and falling down, says Jen.
"And you think you're anonymous and suddenly everyone's like 'Jen Garner just fell down! Jennifer, do you need help?' "
Dave was a gracious host, however; he applied some Neosporin ointment to her cuts to help the healing process. How sweet!
JEN'S INJURIES: