NEWS
Jenelle Evans and Gary Head: The Engagement's Back On?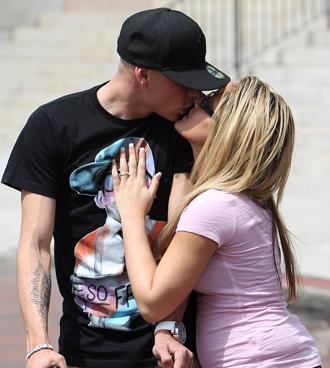 Talk about a volatile couple.
OK! NEWS: TEEN MOM 2 STAR JENELLE EVANS IS ENGAGED TO GARY HEAD!
Teen Mom 2's Jenelle Evans and her off/on-again fiancé, Gary Head, seem to have reconciled once again. The duo's moody relationship alternated between marriage plans to cheating and stealing accusations... all in the matter of weeks. Jenelle Tweeted a goopy message this morning of her engagement ring and a witticism about how a little jealousy in a relationship is good.
Article continues below advertisement
So we guess it's back on?
In mid-May, the two announced their engagement, with Jenelle flashing a ring and saccharine sweet Tweet: "I'm the luckiest girl in the world to have @gary_head in my life."
By June 1, it was splitsville for the couple, with the two engaging in a rather childish Twitter war revolving around Gary allegedly stealing her $300 Tiffany necklace and cheating on her with Teen Mom 2 co-star Chelsea Houska.
Gary denied all this, and two days later it appeared that the two kissed and made up. A source told Eonline.com yesterday that the engagement wasn't ever officially off.
OK! NEWS: TEEN MOM 2 STAR JENELLE EVANS SHOWS OFF HER NEW BREAST IMPLANTS ON TWITTER
"Gary admitted he was wrong and felt really bad for kicking in her door. He went over and fixed it this weekend," the source said. "Gary and Jenelle are aiming for a December wedding. Gary has some relatives in Afghanistan and the couple wants to wait until they get back so they can be at the wedding."
Nothing says Happy Holidays like a Teen Mom 2 wedding.