NEWS
Jenna Dewan Tatum Says She's "Proud" of Hubby Channing's 'Magic Mike' Movie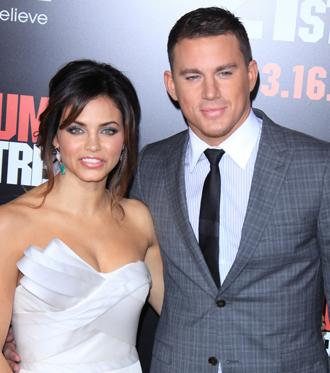 So what does it feel like being the wife of Channing Tatum, former stripper who will tease and tantalize women as a fictional stripper in this month's Magic Mike?
OK! NEWS: CHANNING TATUM IS SEXY AND SHIRTLESS ON MAGIC MIKE SET
Pretty great, says Jenna Dewan Tatum, wed to the actor since July of 2009.
"I'm happy for people to see it. He's so good in it. I'm just so proud," said the dancer and actress, who met Channing on the set of Step It Up. "I think the movie is amazing."
Article continues below advertisement
As a classically trained dancer, she was actually impressed with his shimmying, shaking and ripping off tacky outfits?
"I'm a dancer, I grew up as a dancer and he's an amazing dancer," she said. "But there were moments in that movie where I was like, 'I gotta give it to you — I could not have done that. That was amazing.'"
Channing told OUT magazine last month about his year-long escapade working at a male strip club in Tampa, FL.
OK! GALLERIES: CHANNING'S CHISELED FACE IS WORTH THE CHASE
"You are on a stage with people yelling at you, and you feel you're a rock star, but you're nothing — you're just a guy taking off his clothes, looking like a fool in a stupid outfit," he told the publication. "Straight guys want to know everything about his stripping days. It's that fantasy element."
Magic Mike hits theaters on June 29 — check out a saucy trailer of Channing, Matthew McConaughey, Joe Manganiello, Matt Bomer and Alex Pettyfer.