NEWS
Jennifer Aniston Declined 'SNL' Full Time Offer for 'Friends'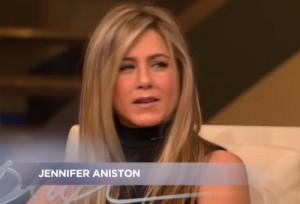 Jennifer Aniston has always had a knack for comedy, so why not join the cast of the leading comedic variety show out there, Saturday Night Live? The A-list actress admits she was asked to sign on with the likes of Adam Sandler and Jimmy Fallon, but turned down the offer to take on another endeavor — a little sitcom called Friends!
Jen joined her Just Go With It costar Adam Sandler on The Oprah Winfrey Show yesterday and the pals — whose friendship spans 20 years — talked about how Jen turned down an opportunity from Lorne Michaels to be a regular on SNL.
Article continues below advertisement
"We wanted Aniston to be on the show with us," Adam recalled. "I remember being on the ninth floor where SNL exec Lorne Michaels' office was, and seeing Jen come in. I was like, 'Oh my God, there's Aniston. Is she about to be on our show?'"
But Jen had another project in the works.
"She said no? She's gonna do that Friends? What the hell is Friends?"Adam quipped. "That was the truth."
Jen said at the time she thought of SNL as a "boys club."
But it all worked out for the best as Friends catapulted Jennifer and her career to the top.
And Jen still seized her opportunity to guest host multiple times on the hit NBC variety show.
Catch clip HERE and additional clips below!
Check out of Jen's SNL spoofs below!
Jen denies reports that she is adopting a baby