NEWS
Jennifer Aniston: Gerard Butler Has My Back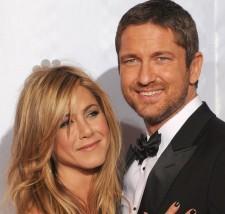 Jennifer Aniston makes no secret that she's Scottish hunk Gerard Butler's biggest fan, praising her co-star in The Bounty Hunter as "fun" and fueling long-standing rumors that the pair are more than just friends.
"We just had so much fun together you know. He's just fun. Gerry's the most unpretentious guy," Jennifer tells Access Hollywood's Billy Bush in an interview airing tonight.
Article continues below advertisement
"He's a guys guy, but he's absolutely the most lovely and sort of self-deprecating and just what you see is what you get," she says of Gerry, who stayed with her in Mexico. "We look at work the same way…we always had each other's back."
Jen is celebrating her 41st birthday at the One & Only Palmilla resort in Cabo San Lucas, with an A-list gang of friends including Courteney Cox Arquette, Jason Bateman and Sheryl Crow.
OK! NEWS: JENNIFER ANISTON CELEBRATES BIRTHDAY IN CABO
So, how does she feel about turning 41? "Thirty-one, pssh," she jokes. "It's quite lovely I have to say. 30 was a hump but you know 31 is fabulous. It really does get better doesn't it?"
What else brought Jen back to Mexico for the birthday trip which was organized by a friend?
OK! NEWS: ANGELINA JOLIE OUT- EARNED JENNIFER ANISTON LAST YEAR
"He said to me, 'You come to Mexico all the time and Mexico is really hurting right now because of the swine flu and the drug trafficking and all of this sort of stuff but it's not all of Mexico,'" she explains.
"These people survive on us coming down and spending money and coming here to these beautiful places.
OK! NEWS: JENNIFER ANISTON: "I ENTERTAIN FOR A LIVING"
"It sort of made sense to sort of say 'Hey, let's help out Mexico,'" she says. "Let's shout out to these kids in Tijuana at El Faro and you know, have a big…that's sort of our birthday celebration this year."