NEWS
Jennifer Aniston Poses Shirtless With Paul Rudd for Sexy 'GQ' Cover: "We've Made Out for Decades"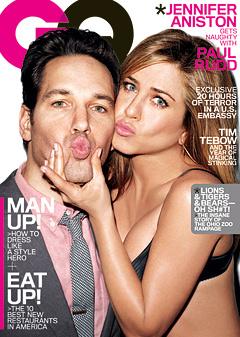 Whoa, what a sexy cover! Wanderlust co-stars Jennifer Aniston and Paul Rudd got extremely up close and personal for their new cover with GQ magazine that coincidentally was released on Valentine's Day. But these friends go way back, so it's okay!
OK! GALLERY: JENNIFER ANISTON & PAUL RUDD WRAP NYC SHOOT FOR WANDERLUST
Jen and Paul started their friendship when they were just 21 years old.
So, is it weird for these close friends to kiss on-screen?
Article continues below advertisement
"Nah," Jen told GQ magazine. "I've kissed him for years."
And Paul agreed, explaining, "We've made out for decades."
Their new movie is about marriage. Paul is married to Julie Yaeger, and Jennifer, who is dating Justin Theroux, "revealed" she has been married in the past.
"That is correct. And I'm now divorced. In case you hadn't heard," she joked about her marriage to Brad Pitt.
But both stars had the film resonate with them and their own marriages.
"I think most marriages, mine included, you're constantly tending the garden, constantly working at it," Paul explained.
"It's a growing, literally, living thing. There's going to be growing pains, there's going to be awkward moments — your lanky phase, your pimpled phase. I think that's the beauty of a relationship. But if the road starts to..." Jennifer added.
"Diverge..." Paul helped.
"And one person is growing this way and the other is growing that way... Sometimes that can happen and you can stay together, and sometimes you can't," Jen concluded.