NEWS
Jennifer Aniston Will Wed, Says Patti Stanger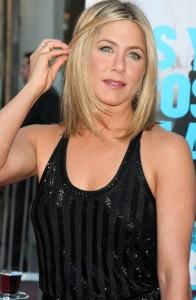 Although Millionaire Matchmaker star Patti Stanger is strongly opposed to the way the Jennifer Aniston-Justin Theroux relationship began, she believes marriage is in the movie star's future. However, kids may be more of a challenge for the woman who divorced Brad Pitt in 2005.
"That guy lived with that girl for 14 years, saw Jennifer, made the movie Wanderlust and boom," she tells me while promoting Pucker Vodka. "He is in her bed. She bitched about Angelina Jolie, and now Angelina can sit back and take the guilt off, because if it's true allegedly, I say, because I don't want anyone coming back to me, then she's wrong. How you get a guy is how you lose a guy."
Article continues below advertisement
OK! VIDEO: JENNIFER ANISTON ADMITS (SORTA) TO HAVING A NOSE JOB
Instead, Patti believes Justin should've cut ties with girlfriend Heidi Bivens before revving up a romance with Jen.
"He should've left," Patti says. "Do things happen while you're with someone else? Yes. Look at Tori and Dean. You can't stop fate, but if he was with her 14 years, doesn't she deserve better than just moving out?"
She continues, "They should have gone slow. Kind of like what Brad did with Angelina. He didn't just move in right away with her. He went on vacation, he tried to check it out see what he felt I'm sure, and eventually it happened. You've got to go a little slower for somebody like that. The pain must be excruciating for the girlfriend."
Still, Patti believes that finding true love again in the form of marriage is inevitable for Jennifer.
"Absolutely," she says. "She's primed for it. Because I think she believes in love, and I think she loves it. I think she loves to laugh and be in love."
Whether she'll marry Justin is to be determined.
"Technically, he probably would be a good guy for her," Patti says. "He has the bells and whistles. He's in Hollywood with the A-list. He writes, he produces, he makes major movies. He's not needing her for fame. No one's going to be as rich as her – let's get real, but he carries some weight. They have chemistry, which is key in this kind of relationship, but they way they did it is wrong. You'll have the girl talk about it, and I feel like there's something to that."
Article continues below advertisement
She sees improvement in the quality of Jen's men.
"Her choices are getting better - I will give her that. Her choices are getting better, however, the way she got him is not correct. But I do think he is a better choice for her than, like, John Mayer."
However, having children of her own may be another story. How can she move the relationship along if she wants to be a parent?
"Well, she's over 40 - she's 42. She may not be able to get pregnant - we don't know what's going to happen there. She probably really researched him - does he want to be a parent? First of all, I wouldn't get involved with him if I wanted kids, and he didn't want kids. Talk it out, feel it out – for all I know, they made the agreement they want kids.You don't know what's going to happen. At the same time, we also have to realize that men's sperm decreases at the same rate as women, so he ain't young either."
There is a ray of hope, though.
"There's surrogacy – but isn't that great that there are so many ways to have a baby? That's the best part."
Pick up the OK! on newsstands now for more witticisms from Patti Stanger. The cover line is "Reality TV Moms: Even More Babies!"