NEWS
Jennifer Hudson Back in the Tour Saddle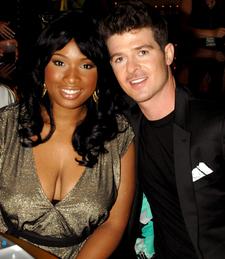 Only months ago Jennifer Hudson suffered through the terrible tragedy of losing her mother, brother and nephew in a senseless act of violence. But now the Grammy winner is fighting through her pain, picking herself up and heading back into the world in a big way.
The Dreamgirls star will co-headline a tour with smooth soul singer Robin Thicke, starting March 31 in Albany, N.Y.
Jennifer, who's also an Academy Award winner, recently nabbed the Grammy for Best R&B Album for her self-titled solo debut.
Article continues below advertisement
"I am so grateful" says a statement from Jennifer. "My first Grammy and my first tour, it doesn't get any better than this!"