NEWS
Jennifer Hudson Pulled Out of Michael Jackson Tribute Concert Due to "Production Issues"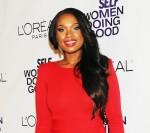 On Saturday night the stellar line-up for the Michael Jackson tribute concert in Cardiff, Wales included everyone from Christina Aguilera to Gladys Knight to Cee Lo Green. It didn't include, however, Jennifer Hudson. Although she was on the original line-up, just hours before the show the Oscar and Grammy winner announced she wasn't going to perform. Find out more after the jump!
Jennifer tweeted, "To my uk fans that were coming to the mj show in wales. I will no longer be attentding due to major production issues." Since fans sounded surprised by the news, the svelte star followed up with another tweet. "I would have thought they would have informed you all by now , so since they did not , I am. Thank u for your support."
Article continues below advertisement
According to TMZ, Jennifer was upset she wasn't given enough time for the music originally agreed to perform. Although the site originally indicated she was paid in full prior to the concert, WKT Public Relations subsequently released a statement on behalf of Jennifer: "In the last few days, it has been written that our client, Jennifer Hudson, has been paid by the producers of the 'Michael Forever' event for a performance that she did not give. Ms. Hudson has not received any amounts in connection with the 'Michael Forever' event."
J Hud wasn't the only no show for fans. As pointed out by the Huffington Post, apparently Chris Brown was denied a visa to enter the U.K. as a result of his criminal record. The Black Eyed Peas also pulled themselves from the line-up in the midst of speculation they're breaking up.