NEWS
Jennifer Hudson on Weight Loss — "I Want to Be a Good Role Model to My Son"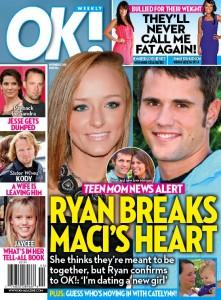 Jennifer Hudson was the "big girl" on American Idol. Then she was the "big girl" in Dreamgirls. Now, the Oscar winning performer is a big star with a fabulous new physique. This week's issue of OK! delves into how J. Hud dealt with the criticism along with how she shed eight sizes (!) to get into what Jennifer describes as, "the best shape of my life."
Jennifer, formerly a size 12 — though she got up to a size 16 for her role in Dreamgirls — is down to a sexy size 4. Even Jennifer hasn't been able to wrap her head around her incredible transformation.
Article continues below advertisement
"I see a photograph and I think, 'Who is that? Oh! That's me!' " Jennifer says.
OK! GALLERY: JENNIFER HUDSON HOLDS HER TOT TIGHT
Outwardly, Jennifer never acted as though she let criticism of her weight get to her, but insiders reveal the singer's body image has been a work in progress.
"During Idol, some days she thought of herself as the big, gorgeous girl with the big voice, but on others, she felt as though she was cheating herself," a source tells OK!. "At times, comments about her weight really hurt."
Article continues below advertisement
After Jennifer's 2009 pregnancy she finally got serious about shedding the pounds when director Darrell James Roodt cast her as the lead in a biopic about Nelson Mandela's wife Winnie.
OK! NEWS: JENNIFER HUDSON ON MOTHERHOOD AND HER 'FIERCE' WEDDING DRESS
But while her career may have given her the initial inspiration to slim down, it's her and fiancé David Otunga's son, David Jr., who gives her the best reason to stay fit and healthy.
"I want to be a good role model to my son," Jennifer says.
FOR MORE ON HOW JENNIFER SLIMMED DOWN, PICK UP THIS WEEK'S ISSUE OF OK! — ON SALE EVERYWHERE NOW!