NEWS
Jennifer Lawrence Admits She Almost Turned Down the Role of Katniss in 'The Hunger Games'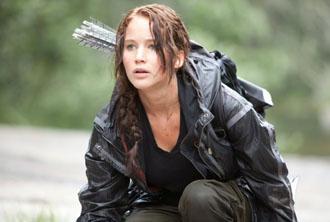 Although she was a huge fan of Suzanne Collins and The Hunger Games novels before she auditioned for the role of Katniss Everdeen, Jennifer Lawrence confesses in a new interview that she almost didn't do the movie! Why? That dreaded Twilight-like fandemonium!
OK! GALLERY: JENNIFER LAWRENCE ROCKS A SKIN-TIGHT BACKLESS DRESS TO THE HUNGER GAMES PREMIERE IN PARIS!
"When I was almost going to turn this down because it was too big, my mom told me I was being a hypocrite, because I loved the story, loved the characters and I truly believe in the message that these films are bringing," Jennifer explains to Moviefone.
Article continues below advertisement
And now that the first installment of the franchise is hitting theaters next week, Jennifer is over the moon with excitement and eager to get back to the set with her leading men Josh Hutcherson (Peeta) and Liam Hemsworth (Gale).
"I actually can't wait to go back," she admits, adding, "It's a character I would love to revisit. I think if you sign on to the right franchise you're okay. I don't feel like a slave to anyone."
Actually, Jennifer feels the complete opposite and has really created a connection to her on-screen character.
OK! NEWS: JENNIFER LAWRENCE AT THE HUNGER GAMES PREMIERE: "THIS IS MY NEW LIFE"
"I really don't feel like I'm being tied down to it… I'm proud to put my name to it," she explains when asked how she got over the initial fear to join the sure-to-be mega-hit franchise.
Now, Jennifer claims she's calm and ready for anything, especially when it comes to those Twilight comparisons. "I'm not worried about it," she says, "I like the Twilight movies."
Yeah, you still might want to get a heads-up from Kristen Stewart, J.Law!