NEWS
Jennifer Lawrence Talks Sex Swings & Strips Naked With Co-Stars She's Just Met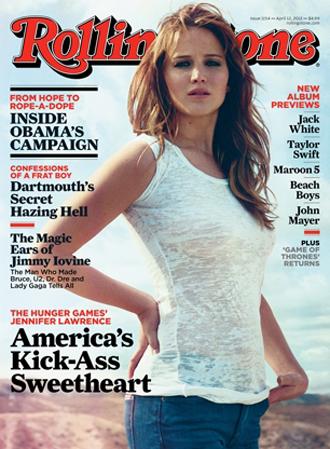 Rolling Stone released an excerpt from their new cover interview with Jennifer Lawrence and we can already tell it's amazing. The 21-year-old Hunger Games star certainly makes a lasting first impression! Jennifer's co-stars shared their stories of how they first met the star.
OK! GALLERY: JENNIFER LAWRENCE GREETS HUNGER GAMES FANS IN MADRID
Jennifer wasted no time getting close with her Hunger Games co-star and fellow Tribute, Josh Hutcherson.
Article continues below advertisement
"When I got cast, she called me up for one of those five-minute 'Excited to work with you, blah, blah, blah' things," Josh recalls to Rolling Stone. "The conversation started with her saying, 'Think about a catheter going in – ouch!' and then turns into a 45-minute rant about zombies and the apocalypse."
Also from The Hunger Games is Woody Harrelson, who shared his own hilarious encounter with Jennifer.
"I was on my bus and on my bus I have a yoga swing. Jennifer comes on, and she goes, 'Hi, Woody, I'm J— is that a sex swing?' Her first sentence to me."
And it gets even more inappropriate!
OK! NEWS: THE HUNGER GAMES STAR JOSH HUTCHERSON EXPLAINS TEAM PEENISS & PEETAPHILES TO CONAN O'BRIEN
Jennifer's X-Men: First Class co-star, Zoë Kravitz, had the best story.
"I'd met her a few times, and she was like, 'You should come over and we'll hang out.' So I go over to her apartment, and she opens the door in a towel," Zoë explains. "She's like, 'Come in, sorry, you're early, I was about to shower.' And she drops her towel and gets in the shower, and starts shaving her legs, totally naked. She was like, 'Are we here yet? Is this OK?' And I was like, 'I guess we're there!'"
Rolling Stone had an equally good first impression story.
Pick up the new issue in stores March 30.