NEWS
Jennifer Lopez Calls Prince William & Kate Middleton "Simply Charming"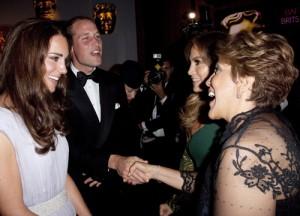 Jennifer Lopez had a double dose of royalty this weekend. The singer/actress met Prince William and Duchess Catherine, aka Kate Middleton at Bafta Brits to Watch gala in L.A. and the superstar was starstruck herself by England's power couple!
After meeting up with the Wills and Kate at the Sunday night affiar, J. Lo Tweeted this morning:
Article continues below advertisement
J. Lo wasn't the only Hollywood star schmoozing with the Duke and Duchess.
Tom Hanks, Rita Wilson, Reese Witherspoon, Nicole Kidman, Blake Lively, Barbara Streisand and James Brolin were among the A-list crowd who came out to meet and greet the royals at the dinner held at the 1926 Belasco Theatre in downtown L.A.
Yesterday, Will and Kate concluded their jam-packed visit to the U.S. by donating some time to a charitable causes important to them — impoverished children.
The royal couple visited L.A.'s Skid Row district to fill care packages for children whose parents are serving overseas in the military.