NEWS
Jennifer Lopez to Pia Toscano: There is "Something Bigger" For You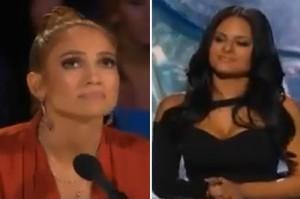 Pia Toscano was voted off last night in one of the biggest upsets in American Idol results history. When Pia's name was announced as the latest cast-off, judge Jennifer Lopez seemed to be the most shocked, trying desperately to hold back the tears as she said goodbye to Pia. J. Lo made a special call to On Air with Ryan Seacrest today to talk about America's decision and Pia's future in the industry.
Article continues below advertisement
"I was just trying to let her know that we were pushing her every week because she was one of the safe ones," she said. "In this business there's always doors that are slammed in your face. I've had tons of doors slammed in my face. I told her to stay true in her heart, to have faith and to know that if this wasn't the path, that there was something bigger for her, and I believe that."
Listen to the entire interview with Jennifer below!