NEWS
Pia Toscano's Elimination Stuns Hollywood: Celebs & Former 'Idols' Tweet Support!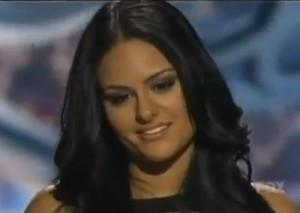 Hollywood is outraged that Pia Toscano was sent home on American Idol last night. Celebs turned to their twitters to voice their bewilderment that the frontrunner was the one sent packing. They also sent sympathetic messages of support to cheer up the New York native during what must be a hard time for her.
Perhaps the most upset celeb was Dax Shepard, who Tweeted: "This did not just happen!!! How??? I'm going to do something radical. I love you Pia!" followed by "This is more egregious than that no-hitter that was ruined by that ump."
Article continues below advertisement
OK! NEWS: PIA TOSCANO FELL VICTIM TO 'DAUGHTRY EFFECT'? TWITTERVERSE SAYS YES
Minka Kelly also shared her surprise and sent a supportive message to Twitter, to which Dax Tweeted, "@minkakelly @PToscanoAI10 I'm going to do something drastic. This has put me in an unstable mood."
Let's hope he doesn't do anything too crazy! We hope he votes.
Even Oscar Winning actor Tom Hanks, who prefaced his tweet with "Don't Have and IDOL habit," was stunned by Pia's elimination.
And her fellow male contestants also expressed their shock.
Scott McCreery: "Really tough night. Yall let a good one go tnight america #speechless. But thnks for the votes n supprt. I appreciate it more than yall know"
Paul McDonald: "Good morning! Emotional night last night. So sad to see one of my best buds on the show @PToscanoAI10 go. She is such a talented singer."
Pia was very gracious about her emotional exit on Twitter, writing, "I'm truly going to miss my idol family! Thank you @JLo Randy and Steven for believing in me. Love you and love my fans!"
Catch all the stars Tweets in the gallery and watch the best of Pia on Idol below!