NEWS
Jennifer Lopez Praises Final Four Idols: "Those Voices are Out of This World"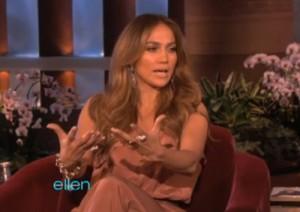 American Idol judge Jennifer Lopez stopped by The Ellen DeGeneres Show (airing today) to chat with the former Idol judge about the final four contestants and her experience on the hit Fox singing competition.
J.Lo and host Ellen DeGeneres bonded over how hard it is to critique contestants week after week.
"What I try to do is really think, like, 'Okay, I know this person wants to get to the finals," Jennifer explained. "So, what can I give them right now that's going to help them be better for next time?' "
Article continues below advertisement
Of course Ellen probed her, trying to get her to predict a contestant who she thought may take the title as the "Next American Idol," but Jennifer remained diplomatic praising each of the remaining contestants.
"I don't know. It's hard to say. It's really hard to say," she began, resiting a prediction. "James Durbin and Haley Reinhart, those voices are out of this world," she said. "James' performance quality is peaking, but so is Scotty McCreery's. And then you have Lauren Alaina, who has just, like, an angel voice with all this character."
Catch the clip, via Ellen, below and watch J.Lo's full interview today at 4 p.m. ET on NBC!