NEWS
Jenny McCarthy on Ashton Kutcher, Demi Moore & Dating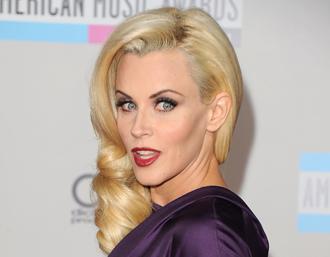 The holidays are here, and if you're worried you might be ringing in the new year alone, stop — the search for love is difficult for everyone! Just ask Jenny McCarthy.
OK! NEWS: WENDY WILLIAMS — DEMI MOORE WAS "TOO OLD" TO MARRY ASHTON KUTCHER
The actress and former Playboy Playmate, who ended a five-year relationship with Jim Carrey in 2005, spoke candidly about the subject at the American Music Awards.
Article continues below advertisement
"It's so hard out here (in L.A.)," Jenny told Radar Online. "The guys are like chicks out here. There's no real guy guys, so maybe importing from somewhere will be smart."
Later, in an interview with Access Hollywood, Jenny clarified that she is from Chicago, and is just used to a different type of guy.
"In Chicago, guys eat meat and potatoes," Jenny said. "Out here, they want to borrow my makeup and concealer."
In effort to find the right guy, Jenny's turned to dating website Match.com.
"I don't care if they have a big nose. I don't care if they're bald. Just really sweet and someone who's a perfect reflection of who I am now," Jenny told Access Hollywood.
OK! NEWS: DEMI MOORE'S DIVORCING ASHTON KUTCHER — "THERE ARE CERTAIN VALUES & VOWS THAT I HOLD SACRED"
But, gentlemen, be aware: a search for Jenny on the website won't get you far; the single mom of an eight-year-old son uses a fake name and a picture of her pregnant sister for her profile in order to ward of any fame-hungry suitors.
Article continues below advertisement
"Sometimes I think relationships are only supposed to last a limited time, and then you should move on to the next," the Two and a Half Men star said. "I bow out gracefully, rather than what my parents did, which is stay in it for too long and you're suffering. This way, you bow out quick and you say thank you and respect each other on the way out."
On her co-star Ashton Kutcher's pending divorce from Demi Moore, Jenny said, "I wish them both well. I know them both, and they're very sweet."
Do you think Jenny can find her match online? Should she and Demi hit the town together once they are both single ladies? Sound off below!