NEWS
Jeremy Jordan Talks 'Newsies' Opening On Broadway!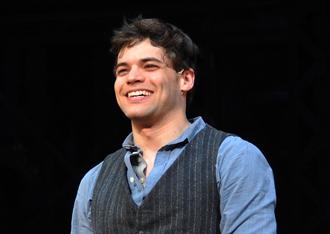 Disney's Newsies opened officially on Broadway last night! The musical based on the '80s film of the same names stars Jeremy Jordan in the leading role of Jack Kelly. OK! caught up with Jeremy to discuss this huge part and 're-making' a cult classic.
"We've turned many naysayers, many movie loyalists to the Broadway side," Jeremy revealed.
In terms of the film's cult like following, Jeremy admitted to being a part of it. "I'm part of it, are you kidding me? Going back and watching it as an adult you're like, 'Okay this is not as good as I thought it was when I was 8.' But it still had its wonderful qualities and these amazing musical dance numbers and all of this great stuff that developed this cult following, but it was certainly flawed."
Article continues below advertisement
OK! GALLERY: QUEEN LATIFAH & DOLLY PARTON BRING ON THE FUN AT THE JOYFUL NOISE PREMIERE IN HOLLYWOOD
Jeremy also said that although the musical may not be "perfect" either he was so excited to delve into the character in a new way. "I'm excited because I've gotten a lot of positive feedback, which is great because Christian Bale is such an icon," Jeremy told OK!.
"Even though he doesn't like to talk about it, it's such an iconic role for him. And I hope it turns into an iconic role for me. I love the part; I love the character. He's fun and he's exciting and complex, as complex as you can be in a Disney musical. I'm really excited to tackle it again."