NEWS
Jeremy Piven on Miley Cyrus: "We Have Great Chemistry"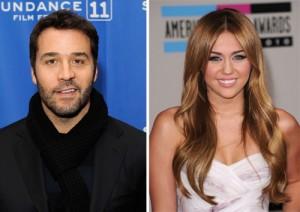 Miley Cyrus is definitely gaining an "entourage" with her So Undercover co-star Jeremy Piven. Jeremy, 45, shared that he and his 18-year-old co-star sparked a friendship while they were filming in Louisiana.
"I think I must be an 18-year-old girl because we got along really well," Jeremy told E! Online's Marc Malkin at the Sundance Film Festival. "It was just so much fun. I had so much fun with her and we had great chemistry. It was really really weird — we're like polar opposites. She's kind of amazing."
Article continues below advertisement
OK! VIDEO: ROBERT PLANT SHARES A VIDEO FROM THE SO UNDERCOVER SET
The Entourage star also defended the teen queen from all the attacks against her — stemming from her bong experimentation late last year.
"You know, you can judge her, but what were you doing when you were 18? ... There's nothing pretentious about her. She's this force. She loves to laugh."
The infamous video showed Miley smoking a legal herbal hallucinogen, salvia, from a bong.
Working with a teen superstar has finally garnered Jeremy some attention from his young nieces and nephews.
"Right now they think I work for the bus company because they saw me on an ad for Entourage on a bus, so they asked me if I work for the bus company," he said. "I said, 'No, Uncle Jeremy doesn't work for the bus company.' So finally now that I'm in a movie with Miley I'll get a little respect."
Sounds like Miley has a true friend in her co-star!