NEWS
Miley Cyrus Shares Video Update From 'So Undercover' Set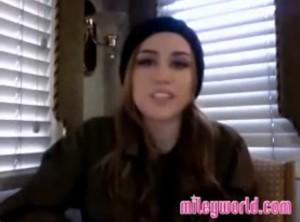 Hey, Miley Cyrus, long time no see. The Hannah Montana star has been slightly MIA for awhile while filming her upcoming movie, So Undercover, but now she's made a YouTube video to catch her fans up on all of her action.
OK! NEWS: WATCH MILEY CYRUS IN HANNAH MONTANA FINALE PREVIEW!
"'Sup guys? It's Miley in my trailer hanging out on the set of 'So Undercover,'" Miley says in the new YouTube video. "This is actually our last week and a half, which is crazy."
Article continues below advertisement
In the film, Miley plays an FBI agent who goes undercover at a college sorority.
"I can't believe how quick it's gone," she said. "We had a really good time. We actually just had a wrap party because the girls are leaving 'cause now it's getting into the relationship of me and my dad. So all the sorority scenes are coming to an end, so all my girls are leaving me."
"We've been working so hard," she added. "Literally, I'm in every scene except one or two, so we've been here working really long hours. It was nice to have a night just to be able to hang out, all the crew and all the cast, to be able to hang out as friends, not in just a work environment."
And she's added a member to her "entourage."
"They let me and Jeremy Piven, who plays one of our characters ... can't tell you who, I'm not allowed. But Jeremy's in this movie, and so he got up on the drums and we played 'I Love Rock 'n' Roll.'"
"I've had an awesome time shooting this movie," Miley concluded. "I'm excited for you guys to see it, really digging it. I wanted to tell you guys I love you ... peace."
Watch Miley's video below!