NEWS
'Jersey Shore' Starlet Snooki Dishes on Her Recent Arrest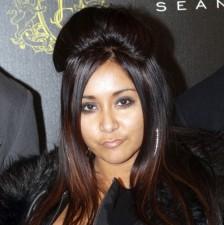 Jersey Shore's Nicole "Snooki" Polizzi opened up to reporters yesterday about her arrest last week for being publically intoxicated on the beach.
"I didn't hurt anybody and I just went out to have a good time on the beach. Stuff like this happens in Jersey. I was in the drunk tank for a little bit. I had too many tequilas. What are you going to do?," Snooki gushed in L.A at a Jersey Shore press conference.
Article continues below advertisement
The 22-year-old admits that she has to start drinking more responsibly.
OK! REVEALS DETAILS LEADING UP TO SNOOKI'S ARREST
"I learned that I need to calm down with drinking. I can't be drinking in the middle of the day. It was a good wakeup call for me," Snooki told reporters. "It definitely embarrassed my family and that's not good. My dad was very very pissed, 'I didn't raise you like this!'"
Snooki set a few goals for herself to calm down when it comes to partying.
"I felt really bad so I'm definitely going to stop drinking during the daytime and now when I go out I only have a couple drinks. Right now I'm watching myself."
SHOOTING SEASON 3 OF 'JERSEY SHORE' IN SEASIDE
And as for rumors that the entire arrest was staged?
Snooki tells OK!, "that's crazy. The cops weren't going to arrest me at first. It was a drunken mistake."
Even if Snooki does make a few mistakes with the law, according to her, the reality starlet has an in with the President.
MICHAEL CERA, DANIELLE STAUB DISH ON 'JERSEY SHORE'
When asked if she was offended that President Barack Obama claimed that he did not know who Snooki was when on the View last week, Snooki gushed: "Yes, he does. Obama's lying. He knows who I am!"
Reporting By Carole Glines