NEWS
'Jersey Shore' Stars Sammi "Sweetheart" & Ronnie Ortiz-Magro Give Us the Scoop on Why They Work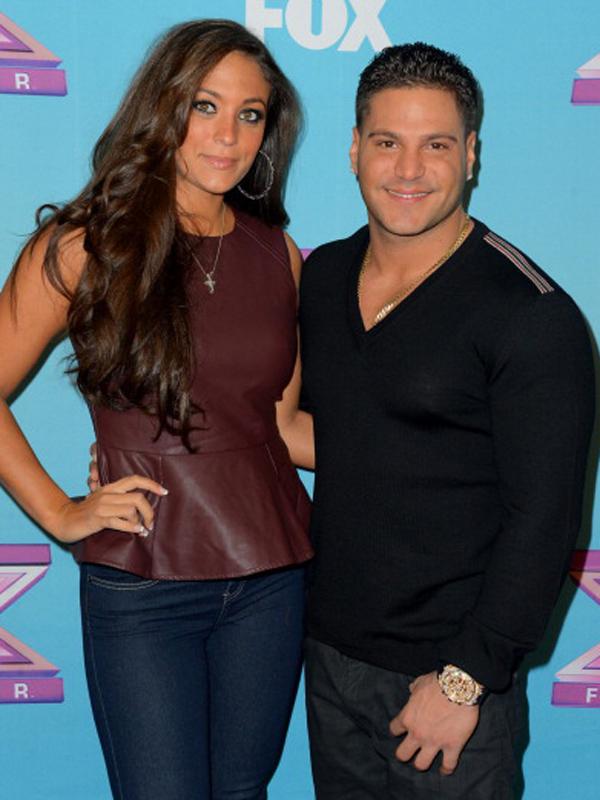 Over the course of Jersey Shore fans have seen Sammi "Sweetheart" Giancola and her boyfriend Ronnie battle out their differences in front of the camera time and time again.
The two have had a lot of intense fights and moments on the show, but the couple are now in such a good place in their relationship that they're living together.
OK! GALLERY: THE JERSEY SHORE GANG HITS THE BEACH IN SEASIDE HEIGHTS
Article continues below advertisement
We talked to the pair recently at the London Hotel in West Hollywood for a Jersey Shore event and the two explained why things have gotten so much better with them.
"We've matured," Sammi said.
"On the show we had the opportunity to learn from our mistakes. We actually get to look back and be like 'Oh my God I never want to do that again!', Ronnie chimed in.
"But there's still an episode left and of course we still have our bickers here and there," Sammi added.
No relationship is perfect, Ronnie told us. "If you don't fight with your other then I want to know who you're fighting with."
While we saw so much craziness go down with Sammi and Ronnie, the reality stars say they have plenty of good moments that didn't air.
OK! GALLERY: JERSEY SHORE CAST SEEN FILMING SEASON SIX!
"What you don't see is a lot of the amazing times we've had together. You're seeing the drama, Sammi said. "They're cutting out the fat and you're getting the goods. Who wants to see us all lovey dovey.? It is a TV show and it is edited it makes things look a lot more extreme than what it is."
Article continues below advertisement
Now that the show is coming to an end after six seasons, the couple have had time to reflect on their relationship and they told us what they think the biggest problem they've had to deal with is.
"I think the cameras had a lot to do with it, Ronnie said.
"And other people. You have producers also as a voice in your own relationship and you have six other roommates involved in your relationship," Sammi added. "I think it's so funny because at that time they were so involved in our relationship hey didn't have their own amazing relationships going on so now that they do, it's kinda funny because we're all good now and they have their own problems."
MORE ON:
sammi sweetheart giancola
She continued: "We can actually comment on their relationships because they go through the same exact things that we have gone through. And they've actually said to us 'Wow you guys aren't as screwed up as we thought you were. We're going through the same thing!'"
OK! GALLERY: SNOOKI TRIPS AND FALLS WHILE FILMING JERSEY SHORE
The pair have broken up and gotten back together more times than we can count, but Sammi explained why they work so well.
Article continues below advertisement
"We've definitely broken up for a little bit and have gotten together with other people. We've been through the whole roller coaster ride. We're really great friends and people don't get to see how great of a connection we do have. There's so much more that me and him have together than what people realize."
The Jersey Shore finale airs 10pm on Thursday, December 20 at 10pm followed by a LIVE Reunion at 11pm on MTV.