NEWS
'Jersey Shore' Stars Snooki and JWwow Dish on Their Relationships and Upcoming Weddings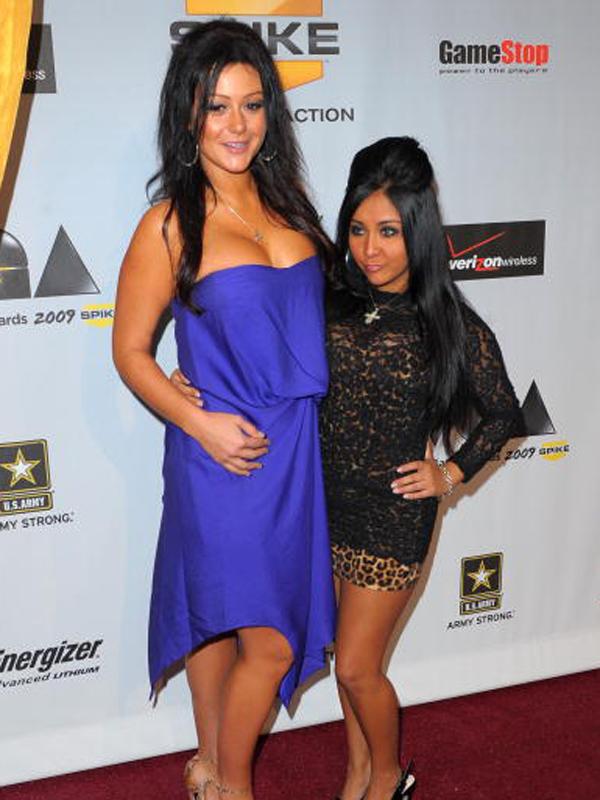 Article continues below advertisement
"I tired to start planning, but I realized that it's extremely hard," JWwow said. "Me picking a venue, color, theme and this and that, then I find out you have to have showers and other stuff. It's overwhelming so I kind of took a step back. I think I just want to appreciate being engaged before I do all that stuff."
But the reality star does know she wants a big ceremony which she is finding quite challenging.
"I wanted a destination wedding, but I wanted to bring 450 people. I don't find that to be possible."
While JWwow hasn't done much to prepare for her big day, Snooki has done even less. She told us she's happy where she's at for the moment and she's enjoying being a new mom.
"I'm not anywhere right now. I think she's going to get married before I will. Right now I just want to concentrate on Lorenzo and being a parent and build our house then plan the wedding."
Article continues below advertisement
OK! GALLERY: SNOOKI AND JWOWW SHOP UP A STORM AS THEY BEGIN FILMING JERSEY SHORE SPIN-OFF IN JERSEY CITY
As we've seen time and time again, many relationships don't work out on reality shows, but that hasn't been the case for these two meatballs! They say it's made their relationship stronger.
"I feel like with other reality show relationships if they were truly real they could withstand because you're going through real life situations," JWoww said. "So what if they're on camera? I'm sure someone else in America is going through that same problem and they can relate or learn from our mistakes. You really have to know that this is the relationship you want to be in and then it doesn't matter if it's on camera or not."
MORE ON:
Nicole "Snooki" Polizzi
She continued: "With ours it was like okay the camera may be in our face, but I still don't like you at this moment. You fight it out, you get over it and you watch it in a couple of months and you learn from it."
OK! GALLERY:JENNI "JWOWW" FARLEY AND DEENA CORTESE ARE READY FOR THE FINAL JERSEY SHORE SEASON PREMIERE
Snooki added: "I just think our relationships are real and some of the reality shows with their relationships don't know each other like we know other with our men. So as long as you're real and you say how you really feel, how can it not work?"
Article continues below advertisement
The two are busy promoting the last season of the show, but they won't be out of the spotlight for long if Snooki has her way.
"My goal is to have a talk show late at night just to talk about everything and be raunchy. Just be fun I feel like they're missing that. That's my main goal."
The Jersey Shore finale airs 10pm on Thursday, December 20 at 10pm followed by a LIVE Reunion at 11pm on MTV.
RELATED NEWS: