NEWS
Jessica Simpson On Boyfriend Eric Johnson: "He Brings Out a Lot of Light in Me"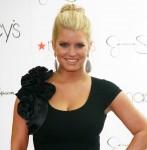 Jessica Simpson has opened up about turning 30 and dating her new man, football player Eric Johnson, who she says makes her feel very "comfortable".
Jessica, who took part in the Women's Conference in Long Beach, Calif. yesterday, told USA Today that she is feeling happy — and her new relationship definitely has something to do with it.
OK! EXCLUSIVE: JESSICA SIMPSON — SKINNIER OR SMARTER?
"He definitely makes me very happy. He brings out a lot of light in me and makes me very comfortable being who I am. It's nice to be with somebody who praises you for the right reasons," she says.
Article continues below advertisement
So how did she feel about celebrating her 30th birthday in July? "I love being 30. The moment I turned 30, I really did feel a switch in my life," she says.
OK! NEWS: JESSICA SIMPSON ON ERIC JOHNSON: "DAMN I'M LUCKY"
"I was in Capri and I was with my boyfriend and my family and my friends, and I just felt this coming of age moment, this moment where I really just felt the happiest I've ever been and I love the woman inside of me."
And although her relationship with Eric is relatively new, she's keeping her eye on the future. "I am from the south so I've definitely dreamed of being married my whole life and having children, so hopefully that's in my future."
OK! NEWS: JESSICA SIMPSON WANTS MORE JUNK IN HER TRUNK
Meanwhile, Jessica shared her experience with self-esteem and body image at the conference. "I went through a really hard time, a couple years back with people just harping on the pressure of how to look perfect — obviously using me and my weight," says Jessica.
Article continues below advertisement
She still feels scrutinized: "I feel like people are constantly curious as to how much I weigh or what I look like or what I wear."
OK! NEWS: JESSICA SIMPSON TALKS LOVING HER BODY IN LUCKY
During the conference Arnold Schwarzenegger's wife Maria Shriver asked Jess about the role of food in her life. "When I'm hungry, I'll eat," said Jessica. "When I'm not hungry, I won't. I'm not really that much of a calorie counter, but I do think about it. I make sure I'm working out to make sure I feel good about myself."
She then admitted, "I'm from Texas, I like everything fried, which is the really unfortunate thing. My relationship with food? I want it when I'm sad. When I'm happy, I don't think much about it. But I do like to go out on a date for a good dining experience. It's important not to say, 'I can't have this' because then I obsess about it."
>