NEWS
Jessica Simpson Can't Wait To Be "Drugged" for Child Birth: "I'm Ready to Push!"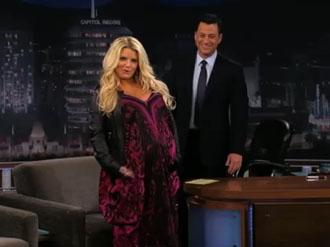 Article continues below advertisement
"I feel like I have a bowling ball sitting on my hoo-ha," Jess confessed to Jimmy Kimmel, reassuring him that she's not expecting twins. "Apparently I have a lot of amniotic fluid, so whenever my water breaks, it will be like a fire hydrant!"
And Jess, who admits her daughter already has "garment bags of designer clothes," can't wait to get the delivery over with.
"I think that I could have the baby soon," Jess said. "I'm ready to push."