NEWS
Jessica Simpson & Eric Johnson Are LAX Lovers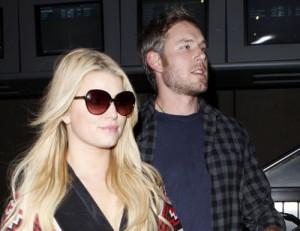 Jessica Simpson and her boyfriend Eric Johnson landed their love down in LAX Sunday, hustling their way through the L.A. airport. The duo looked to be in a rush, happy to be home after traveling. Jess sported big sunglasses as usual, and Eric looked very casual in a plaid shirt. The couple has been taking their love fest bi-coastal lately, with Jess busy promoting her many business endeavors!
Jess is very open about her football hunk, recently sharing with USA Today, that he brings out the best in her.
Article continues below advertisement
"He definitely makes me very happy. He brings out a lot of light in me and makes me very comfortable being who I am. It's nice to be with somebody who praises you for the right reasons," Jess shared.
Even though Jess and Eric's love affair is still going strong, it must be difficult for the star that her ex-husband Nick Lachey is engaged to long-time girlfriend Vanessa Minnillo.
MORE ON:
OK Galleries & Photos