NEWS
Jessica Simpson 'Feels Old' As She Pushes 30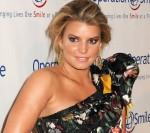 Now that Jessica Simpson's 30th birthday is approaching in July, The Price of Beauty star reflects on her past and her future.
"Oh gosh, I know, I'm pushing 30," she tells me during the Operation Smile Gala held Thursday at NYC's Cipriani Wall Street. "It's happenin' and I feel it. I think 30's going to be a good year for me. I think I experienced a lot in my twenties – a lot more than a lot of people in their twenties would experience. I feel old in a lot of ways, but I feel naïve in ways that I can't wait to see what happens next."
Article continues below advertisement
OK! GALLERY: JESSICA SIMPSON GRINS IT UP IN THE BIG APPLE
The singer-turned-reality star has recently been spotted with a new man in Oscar nominee Jeremy Renner after a string of high-profile romances that include Tony Romo and John Mayer, who infamously dished on their sex life in Playboy, calling Jess "sexual napalm." Ironically, she was a self-proclaimed virgin when she married 98 Degrees frontman Nick Lachey in 2002; they split three years later before divorcing in 2006.
OK! NEWS: JESSICA SIMPSON — I'M SINGLE, BUT I MINGLE!
But all those lost loves haven't hardened Miss Simpson.
"I want people to know I have a heart," she says. "It's important for people to know that I'm a normal girl. I'm like everybody else. I have a heart, I have feelings, I have emotions. I might be used to having to take pictures or walking a red carpet, but that doesn't mean I'm different than you."
Article continues below advertisement
Does she hope to find love in her 30s?
"Oh, I can find love anywhere," she proclaims confidently.
OK! GALLERY: JESSICA SIMPSON HAPPILY RETURNS TO HER HOME BASE
Indeed, Jessica exudes a newfound esteem about herself, and her figure looks fantastic in a one-shouldered floral print Carolina Herrera frock.
What's her secret?
"I don't have a secret," she says. "I think it's owning yourself, doing your own personal homework, knowing who you are, really just diving into that person that you are."
MORE ON:
Red Carpet Confidential
OK! GALLERY: JESSICA SIMPSON SHOOTS A ROUTINE SMILE TO PHOTOGS
One sport she's incorporating into her routine is good for her body, mind and spirit.
"I'm boxing," she says. "It gets a lot of aggression out. I'm boxing with a trainer. He's great, and he's been a middle-weight champion for 10 years. I'm boxing, so I get to hit a lot of things. I better not hurt anybody."
Who inspires her?
"Definitely Oprah is one of the ultimate," she says. "For me to have a sit-down interview with Oprah, my chest was all blotchy, I was in therapy in front of the world, and who has better advice? Definitely Oprah, and then recently being at the White House Correspondents' Dinner, I was looking at Michelle Obama, and I was like 'wow, the fact that you are the First Lady, and anything and everything that you can do to empower women to change this world as your husband is doing what he has to do, that's incredible to me.'"
Article continues below advertisement
She adds, "I get starstruck, I have to say. I'm shy. People don't think that I'm shy 'cause I'm on TV, but really I'm shy."
OK!'S RED CARPET CONFIDENTIAL: JESSICA SIMPSON WANTS A NORMAL MAN
Working with Operation Smile brings joy to Jessica, and an Indian family helped by the charity joins her on the red carpet.
"I've been with Operation Smile through a lot of years, and honestly the first time I found out about Operation Smile was through my best friend Ken," Jessica says. "We went to Kenya, and worked in a hospital, helping out with surgeries. It's changed my life, just being able to give somebody a smile. When you're in entertainment, you try to make other people laugh and do whatever you can. You sing, and you hit a big note, and you hope it gives you chill bumps, but to actually physically be able to give somebody a smile is the most impressive thing."
She adds,"The fact that Nina's here right now with us, and she's feeling so confident to walk down a red carpet when she probably has no idea what it even means, but she's so confident and she smiles. She loves to look at herself now when she never would've looked at herself before."
OK! VIDEO: JESSICA SIMPSON SAYS "HE'LL NEVER HAVE THIS NAPALM AGAIN"
She pulls Nina aside and tells her, "you look beautiful."
Hmm, who is Jessica's date tonight?
"I'm my own date tonight," she yuks.
What does she think of Jeremy, I ask?
Silence reigns as she is whisked away.
Jessica Simpson heads inside to receive her honor for helping Operation Smile, which is a worldwide children's medical charity that provides free surgeries to children suffering from cleft lip and/or cleft palate.