NEWS
Jessica Simpson: "My Belly Is Officially Bigger Than My Boobs"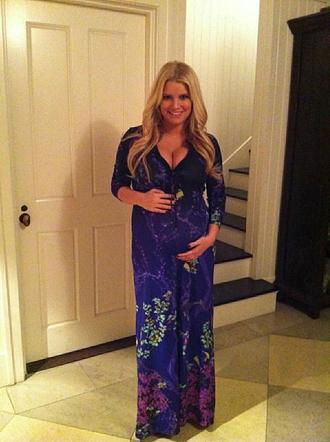 Jessica Simpson announced her pregnancy on Twitter and it looks like the excited mom-to-be is going to keep fans updated throughout her pregnancy on the social networking site.
Jessica showed off her ample cleavage and growing baby bump on Twitter today, with the message: "I LOVE my new Cavalli dress! My belly is officially bigger than my boobs..well kinda...ha"
Article continues below advertisement
While Jess puts a smile on her face for Tweeting purposes, it's not all smooth sailing for the star.
In the new issue of OK!, we explore Jess' relationship with her fiancé/baby daddy Eric Johnson.
Sources tell OK! that the former NFL footballer has backed out of prenuptial agreement, threatening Jess' $700 million fashion empire.
And this is why, even as Jess' baby bump burgeons, the couple's wedding plans are on hold.
OK! NEWS: JESSICA SIMPSON DOESN'T WANT TO BE A "HORMONAL BRIDEZILLA"
"Eric's completely changed his mind," an insider tells OK!. "He started dragging his feet, refusing to sign the prenup they'd drawn up; now he's laying this whole guilt-trip on her about how he believes in true love and she should, too. A lot of people feel she's been totally betrayed."
For more details on Jess and Eric's relationship, pick up the new issue of OK! — on stands everywhere Thursday!