NEWS
Jessica Simpson is Sick of Pregnancy: "I'm Ready To Have My Body Back!"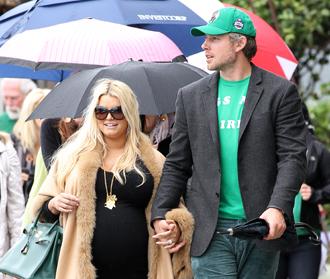 Jessica Simpson is thrilled to become a mommy, but she wants it to happen sooner rather than later, because she's sick of lugging around that big ole bump of hers!
Not that she's complaining about her diet — she loves chowing down on yummy treats — but Jessica is ready for pregnancy to be over and done with.
OK! GALLERY: JESSICA SIMPSON & ERIC JOHNSON GET CAUGHT IN A "BABY SHOWER" IN L.A.
"I had a great pregnancy," Jessica tells Hello! Magazine. "Eating and not having to worry too much about it has been fun."
Article continues below advertisement
"Taking a break from working out has definitely been fun," she adds. "But I'm ready for it to be over, I'm ready to have my body back."
Jess, who admits she's gained 40 pounds throughout her pregnancy, feels like she "could pop at any second."
OK! NEWS: JESSICA SIMPSON CAN'T WAIT TO BE "DRUGGED" FOR CHILD BIRTH: "I'M READY TO PUSH!"
The Fashion Star mentor and her fiancé, Eric Johnson, have revealed that they're expecting a girl, something that they're both looking forward to.
"Eric is going to be an unbelievable dad," Jess tells Hello!. "I can't wait to see if he can master ponytails and braids!"
Jess is due to give birth next month! What do you think she'll she name her baby girl-to-be?