NEWS
Jewel Gets Clean from Caffeine Addiction & More Comedic Celebrity News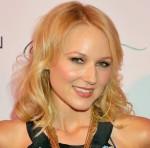 Sometimes celebrity news can be taken a bit too seriously when it should really just provoke a few laughs. To help you out with looking at the humorous side of today's celebrity news is OK!'s guest blogger and Funny or Die comedienne Ellyn Daniels.
OK! NEWS: JEWEL — I'M CAFFEINE-FREE
Jewel came out publicly this weekend about her addiction to caffeine and the adrenal fatigue it resulted in. The singer says she has successfully kicked the habit. Insiders say that her husband made her where a SCRAM (Secure Continuous Remote Americano Monitor) bracelet to make sure she wasn't cheating. Top doctors agree that while quitting caffeine will help Jewel's adrenal glands recover, it most likely will not have any affect on her snaggle tooth.
Article continues below advertisement
OK! NEWS: CHARLIE SHEEN TO SERVE AS ACTING COACH DURING JAIL SENTENCE
Charlie Sheen's lawyers are trying to get him a plea deal that would allow Sheen to do community service during the day while he serves jail time for assaulting his wife. One would think that working in a battered women's shelter might be a fitting job for Sheen during this time, but his lawyers seem to think that Charlie will be most useful to the community by teaching acting at a local theater company in Aspen. I was lucky enough to obtain a copy of the acting class syllabus Charlie will be submitting in court tomorrow as part of his plea.
Lesson 1: Nepotism. It works.
Lesson 2: How to find your character's motivation by getting really drunk.
Lesson 3: How to shoot your girlfriend, do lots of drugs, sleep with hookers and porn starts, beat up your wife and still make 2 million dollars an episode for your starring role in a network sitcom.
Word has it that Charlie would like to tape the classes to add to the "special features" section of the season eight DVD's of Two and a Half Men.
OK! GALLERY: SPOUSES SHOW SUPPORT FOR THEIR STAR KILLERS
Katherine Heigl has submitted herself for Emmy consideration for her work on Grey's Anatomy this season. An inside source told me that one writer from the show has been quoted as saying " We are all so relieved Katherine feels we gave her good enough material this season to warrant an Emmy nomination. Ever since she withdrew her name for consideration in 2008, we've all been living under a huge, black cloud of shame. Now we can begin to rebuild our lives." Way to go, Katherine! I love how she keeps the industry in check.