NEWS
Jewel Tells OK! "We Feel Like We Hit the Baby Lotto"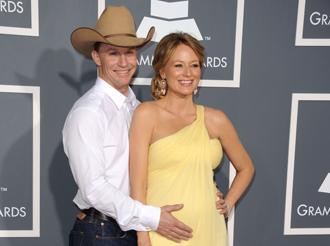 Jewel will certainly have a happy holiday season. The singer is not only a new mom to son Kase, but she's also joining with Hallmark to help other mom's with their holiday planning! How is her son doing now? Jewel told OK! "He is great! He really has been an easy baby and no trouble at all ― we feel like we hit the baby lotto.
"He's also very smart! He is four months old, but has all the skills of a 5-month-old! He talks a lot with us — such sweet baby cooing and babble — it's music to my ears!" Has motherhood surprised her in any way? "Its been surprising how much I have enjoyed being in one spot. I have traveled and worked since I was a child, and this is the most I have been in one place ever ― but I love it! We just sit around and stare at the baby all day — I don't know what I did for entertainment before!"
Article continues below advertisement
OK! NEWS: CARRIE, BRAD, MIRANDA NAME NASHVILLE HOT SPOTS
Jewel also talked to OK! about how she got involved with Hallmark. "Hallmark offered to bring Dave Tutera and and Chef Jayden Hair to my house to cook and decorate ― what's not to love?! I was excited to also share my favorite recipes and holiday traditions with families. All of our tips can be found on Hallmark's Facebook page. You can watch us in action in a series of video segments, or read our tips, which we hope will inspire you to focus on what really matters this holiday season ― connecting with the people you love."
Why did she think it was important? "The holidays are such a special time of year, but if you're like me, they also can be a bit stressful in gearing up to decorate my home, entertain friends, and prepare holiday meals," Jewel said to OK! "And as a new mom, I've got even more to juggle this year. That's why I was excited to partner with Hallmark on their Holiday 'Ideas and Inspiration' program to give busy moms some fun and easy tips for preparing for the holidays."
Article continues below advertisement
OK! NEWS: JEWEL GETS CLEAN FROM CAFFEINE ADDICTION & MORE COMEDIC CELEBRITY NEWS
"What I love the most about Hallmark's Holiday 'Ideas and Inspiration' program is the focus on turning what some consider holiday 'chores' into fun 'together-time' activities for families, and that it's not about being perfect. In fact, it's those perfectly imperfect moments that tend to stand out in our memories and make the holidays meaningful."