NEWS
Jill Zarin & LuAnn De Lesseps Fight Alex McCord on 'Real Housewives of New York' Reunion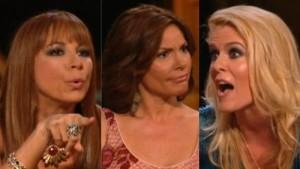 Article continues below advertisement
Alex turned bright red as she confronted LuAnn and Jill for the mean things they said about her behind her back on the show.
"I said you were a thug in a cocktail dress in the middle of the season and then when I saw the entire season with everything you said about me behind my back, I knew I was right," Alex said during the reunion (via AOL TV). "So right that I made 'thug in a cocktail dress' T-shirts and I'm giving you two!"
"Oh, good for you. So you're selling T-shirts now," LuAnn said. "Classy. Classy."
OK!'S WHAT WOULD THE COUNTESS DO? CONSOLING LOVED ONES; COLLECTING ON DEBTS
And then Jill decided it was time for her to get involved in the fight.
"By the way, how about all the remarks you made behind my back?" Jill interrupted.
"How about all the ones you made about me?" Alex fought back. "You called me an f'ing 'B' at a wedding! Everything we have burned in the past, I have not gone back to. And believe me I could, but it's gone. It's buried and it's over."
Article continues below advertisement
"Oh, by the way," Jill said. "Memo! I don't care about you anymore!"
Andy tried to intervene, but eventually Jill repeated herself — complete with a wonderful hand gesture — saying, "Memo! I don't care about you."
"Excellent," Alex said. "Then stop talking about me."
"I never talk about you, darling," Jill responded. "Can't say the same about you and your family."
What did you think of the reunion special part two? Have you taken a side?