NEWS
Jillian Michaels "Can't Handle" Ruining Body with Pregnancy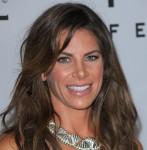 Biggest Loser trainer Jillian Michaels has sworn never to get pregnant — because it would ruin her body.
Jillian, 36, admits she would rather adopt a baby than give birth since she doesn't want to undergo the physical changes that occur during and after pregnancy.
OK! NEWS: "BIGGEST LOSER IS LIKE A FUN HOUSE MIRROR", SAYS JILLIAN
"I'm going to adopt. I can't handle doing that to my body," she told Women's Health magazine via The Huffington Post. "Also, when you rescue something, it's like rescuing a part of yourself."
Article continues below advertisement
Jillian -- who is now 5'2" and 120 pounds -- was overweight as a teen. She said she once weighed 175 pounds but lost the extra weight with martial arts, which she has practiced for 20 years.
OK! NEWS: JILLIAN MICHAELS TAKES HER REGIME ON THE ROAD
Meanwhile, she reveals that she dates both men and women. "I've been in love with both," she said.