NEWS
Jimmy Kimmel 'Highly Recommends' Getting a Penis to Chaz Bono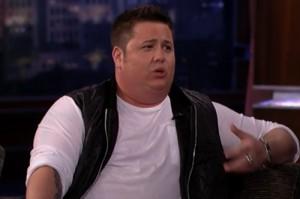 Chaz Bono is very open about discussing his surgical transformation into a man. The process is nearly complete; however, Chaz still does not have a male reproductive organ. Cher's son stopped by Jimmy Kimmel Live last night and discussed penis implants as well as other factors of his transformation.
"Is that something that you want, because I have one and I recommend it highly," host Jimmy Kimmel joked when asking Chaz if he is hoping to get a penis.
Article continues below advertisement
OK! NEWS: ANGELINA JOLIE TO CHAZ BONO — "LEAVE SHILOH ALONE"
But Chaz is waiting for an advancement in technology to find a good option which will allow him to one day have the organ.
"There are no transplants or anything like that?" Jimmy asked.
No yet.
When Chaz asked Jimmy if he was willing to be a donor, the comic offered another suggestion.
"Not that you'd want Osama Bin Laden's penis," he said. "But they threw him overboard and wasted it."
"Wasted a perfectly good penis," Chaz quipped back.
Catch the clip below!