NEWS
J.K. Rowling: 'Harry Potter' Plagiarism Claims are 'Absurd'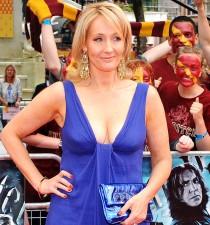 Legal woes surrounding Harry Potter and the Goblet of Fire are heating up, much to the dismay of the creator of the hit novels, J.K. Rowling. The bestselling author has been added on as a defendant in a lawsuit filed against her UK publisher in 2004, which claims that J.K. plagiarized part of the fourth book in her highly-successful Harry Potter series, E! Online reports.
The suit claims that J.K. copied off the 1987 children's book The Adventures of Willy the Wizard: No. 1 Livid Land by Adrian Jacobs, while writing Goblet of Fire, according to E! Online. The author of Willy the Wizard died in 1997.
Article continues below advertisement
OK! NEWS: FINAL HARRY POTTER FILM HAS RELEASE DATE
"I am saddened that yet another claim has been made that I have taken material from another source to write Harry," J.K. said in a statement refuting the bogus allegations.
"The fact is I had never heard of the author or the book before the first accusation by those connected to the author's estate in 2004; I have certainly never read the book."
"The claims that are made are not only unfounded but absurd and I am disappointed that I, and my UK publisher Bloomsbury, are put in a position to have to defend ourselves."
J.K. said she and her publisher will move immediately for the case to be dismissed for "lack of merit."