NEWS
Joan Rivers on LiLo: She'll Be "Dead in 10 Years"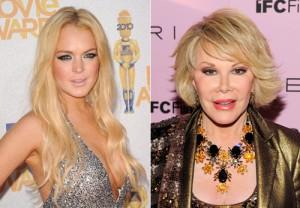 Amid her caustic Twitter battle with Samantha Ronson and Lindsay Lohan, TV personality Joan Rivers took some time away from her Tweet deck to open up about what she thinks is best for the troubled 24-year-old socialite.
"I am so sorry for Lindsay Lohan," Joan tells The Insider in an interview airing Wednesday night. "I am so appalled that these people are coming out of the woodwork upset that I did a joke about her. I think they should worry about Lindsay Lohan."
Article continues below advertisement
Joan also explains that she feels Sam Ronson needs to redirect the energy she wastes Tweeting and focus on Lindsay, before it's too late.
"I think this ex-girlfriend, this deejay — I thought it was a skinny boy when I first saw the picture — came out doing jokes about me and Melissa Rivers, Joan's daughter. Why not worry about Lindsay Lohan? That girl is going to be dead in 10 years if somebody doesn't take care of her."
"If I were Lindsay's parents, I wouldn't be on television discussing it, I wouldn't be going on to Joan Rivers for doing a stupid joke on her blog, I would be taking her to rehab and a rehab where you don't get your nails done," Joan continued.
OK! NEWS: LINDSAY LOHAN IS A GUN-LICKING NUN IN NEW MACHETE POSTER
The TV personality's new WE TV series, Mother Knows Best? premieres in December, and as a mother herself to daughter Melissa Rivers, Joan expresses her serious concern for the troubled young actress, saying that if Lindsay's family "can't scrape it together" to pay for rehab that she and Melissa will fund LiLo's stay!
"I think it is so sad, the road that this girl is going down, it's appallingly sad and I think somebody should, Melissa and I will pay for rehab if her family can't scrape it together," Joan says. "She better get into rehab and better get into it fast."
OK! NEWS: JOAN RIVERS TO YOUNG GAY ACTORS — "YOU'D BE AN ASS TO COME OUT"
Joan's final plea to Lindsay: "Lindsay, I am pleading with you. You're beautiful, you're smart, you're talented. Go to rehab, you're young! Melissa and I will pay for your rehab!"