NEWS
Lindsay Lohan Is A Gun-Licking Nun in New 'Machete' Poster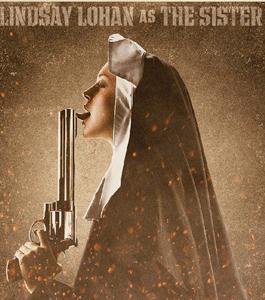 Here's an interesting way to bring back your film career: Dress up as a nun and lick a gun. That's the route Lindsay Lohan is taking in her new poster for upcoming movie Machete, directed by Grindhouse director Robert Rodriguez.
Sure, her depiction in movie promotions isn't entirely up to her, but the timing does seem a bit odd, what with her whole going to jail, SCRAM bracelet-wearing situation.
Article continues below advertisement
Machete won't be released until Sept. 3, which most likely provides plenty of time for Lilo to serve her sentence — which starts July 20 and is supposed to be 90 days, but will most likely be much less — but then there's also that inpatient rehab she's required to go to, as per the orders of Judge Marsha Revel.
OK! NEWS: LINDSAY LOHAN CONTINUES TO CONFUSE WITH RAMBLING TWEETS
Any way you look at it, however, the nun with a gun look is... intriguing, to say the least.