NEWS
Joan Rivers vs. Britney Spears: "I Can't Wait for Her Career to Be Over"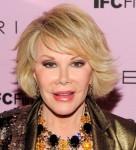 First Joan Rivers ignited a feud with Lindsay Lohan. Now the outrageous comic has chosen another victim — Britney Spears.
The 75-year-old admits unreserved admiration for Kathy Griffin, Sarah Silverman and Chris Rock, adding, "I'm building for Sacha Baron Cohen. People took offense to Bruno, I couldn't believe it — I thought it was hilarious," reports CBC News.
Article continues below advertisement
But what are her thoughts on Britney? "I can't wait for her career to be over so she can serve me coffee at a 7-11. She's such white trash."
When she's not attacking former teen stars, Joan admits that entertainment is an unhealthy industry. "Anyone who goes into this business knows it's an addiction.
OK! NEWS: SAM RONSON DEFENDS LINDSAY AFTER JOAN TWEETS INSULTS
"If you're going into this business thinking you're going to have a nice cushy time of it, then get out of it, baby. I advise people to get out of it all the time. If you can do anything else, then go into that. This is madness, and unhappiness, and constant rejection."