NEWS
Joaquin Phoenix on Filming 'I'm Still Here': We Were Kind of Hostage to the Process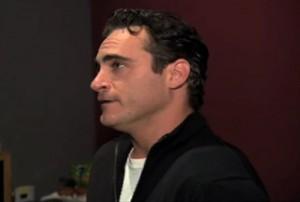 Portraying a druggie, bearded, 20-pound-overweight wannabe rapper really took a toll on Joaquin Phoenix. The two-time Oscar nominee's controversial role in I'm Still Here has everyone buzzing. The actor himself recently admitted that staying dedicated to the project was very difficult.
"At some point, it became such a public spectacle," Joaquin told Extra of filming the Casey Affleck-directed film. "To be frank, we were kind of hostage to the process. There were times, honestly, where I wanted out. Even on a conventional film, I'm done after four months. But this went on and on."
Article continues below advertisement
Joaquin reminisced about the moment when he and Casey announced that Joaquin's career would take a new direction into the rap industry.
OK! NEWS: CLEAN-SHAVEN & COHERENT JOAQUIN RETURNS TO LATE SHOW
"Is this, like, the moment? Shall I announce my retirement right now? And Casey said yes. It wasn't planned. I didn't know that I was going to be talking to you. I had my head down and just walked right up and there you were."
As for his infamous 2009 Letterman appearance on, "I just wanted him to know it wasn't our intention to make him look bad in any way," Joaquin explained. "I wasn't on the show to make a fool of him. In this film, I think the only person who comes off as a real jerk is me."
So was it worth it?
"I wanted to make a movie with my friends and make one in a different way. I wanted to have a different experience, and I'm really happy to have done that."