NEWS
VIDEO: Clean-Shaven & Coherent Joaquin Phoenix Returns to 'Late Show'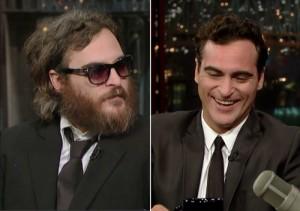 Over a year has passed since Joaquin Phoenix baffled the American public when he appeared on the Late Show with David Letterman — sporting a bedraggled beard, sunglasses and looking more plump than usual. The two time Oscar nominee mumbled his way through an uncomfortable interview with the comedic late-night host. Wednesday night, however, a clean-shaven, thinner Joaquin returned to the Late Show and apologized for his behavior (which was all part of the genius behind the Casey Affleck-directed film I'm Still Here.)
Article continues below advertisement
"I mean, I think that you've interviewed many, many people and I assumed that you would know the difference between a character and a real person," Joaquin told David Letterman last night. "I hope I didn't offend you in any way."
"Oh, no. Oh, no, no, no," Dave responded. "I'm telling you, it was so much fun. It was batting practice, you know what I mean? Every one of them was a dinger. I was looking for a beat down, and I got one... I want to thank you for that."
Catch Joaquin's big return to late night TV!
Feb. 2009 Interview